Let's be honest, fridge magnets are SO commonplace today that most of the time we tend to look straight past them. That's not to say they're a bad idea because statistically fridge magnets represent one of the lowest cost advertising and brand recognition mediums.
At Kool Shops Advertising we wanted to come up with a fridge magnet which would make it as easy as possible for your customers to engage with when they needed to contact you for any reason.
And so we came up with the QR Code Fridge Magnet
It's so simple that we were all surprised that when we looked through the thousands of fridge magnet designs and orders we'd processed over the years, not one featured a QR Code.
So here's how it works:
Choose the size, colour and shape of your fridge magnet
Choose the message you want to convey and remember the KISS method (keep it short & simple). Eg; 24 Hour Service Plumbing, Phone 1300 002 447
We create a QR code and print it on your fridge magnet
It's THAT simple!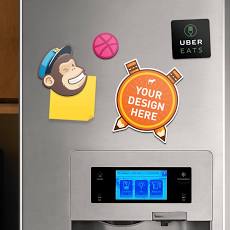 So now your customers can either call your number OR scan the QR Code with their phone and see the range of services or products you provide and if necessary contact you online.
Our Sydney Fridge Magnet Factory is equipped with the latest printing systems which ensures both the longevity of your fridge magnet message and the accuracy of your unique QR Code.
Fridge Magnet Cost
Each fridge magnet order is quoted separately. Shape, Size, Quantity and Artwork are all cost factors. We will provide you with a free quote on any sized order.
Fridge Magnet Shape & Size
Our Sydney fridge magnet factory has the latest CNC cutting machinery which means we can create the size and shape fridge magnet you want. Most of our clients order square or rectangular shapes because a); they are the cheapest and b); it's the message rather than the shape of the fridge magnet which is important. However we often have clients who want specific shapes to further accentuate their message. 
Ordering Fridge Magnets
Our ordering process is fast and simple. Contact us on 0410 008 218 or via the online form below and we will discuss your requirements with you before providing you with a free quote. It's that easy.
Artwork
If you have existing artwork that's great but if not we can create the necessary artwork in-house for you. There is no cost for us to generate your unique QR Code. Depending on the size of your order the artwork can cost between $100 and zero. Once the artwork is complete you will be sent a proof to approve. No production can start without your approval.
Payment Terms
Once you have approved your artwork we will require full payment before we commence production.