All Shapes & Sizes at the Best Prices
When you add up the time you spend driving your car it's not hard to work out just how much more exposure you can give your business by displaying an advertisement for your business. Note also that our car magnets are Made In Australia at our Sydney factory. They are NOT the cheap and nasty imported variety printed in some overseas sweatshop. Our car magnets are aerodynamically tested to stay on at speeds of up to 80 kph.
Our custom made car magnets are for all intents and purposes oversized powerful fridge magnets which can be applied or removed from your car doors in seconds time after time after time. In fact car magnets are perhaps the most cost efficient outdoor advertising available and best of all they are NOT a permanent fixture on your vehicle.
Many of our clients order a range of car magnets to promote various products or services which their business provides. For example:
Restaurants: Lunchtime Specials, Dinner Offers, Weekday Specials
Workshops: Tune Up Service, Scheduled Servicing, Safety Inspections
Nurseries: Seasonal Plant Sales, Garden Accessories
Pest Control: Seasonal Treatment Specials, Maintenance Contacts
Motels: Accommodation Specials, Facilities Available
Builders: Contact Details, Building Services, Free Quotes
IT: Website Services, Website Hosting, Graphic Design
Security: Alarm Systems, On-site Security Services
Hairdressers: Midweek Specials, Formal & Wedding Services
Florists: Delivery Service, Special Occasion Bouquets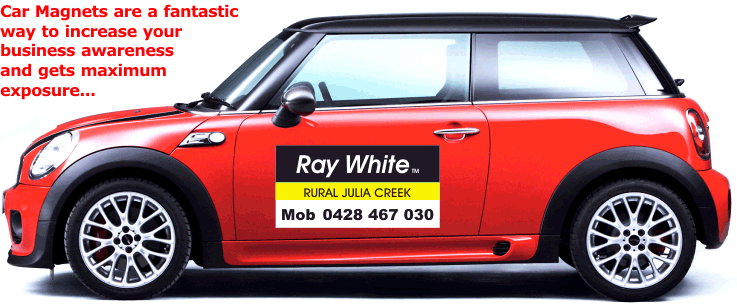 Car Magnet Cost
Each car magnet order is quoted separately. Shape, Size, Quantity and Artwork are all cost factors. We will provide you with a free quote on any sized order.
Car Magnet Shape & Size
Our Sydney factory has the latest CNC cutting machinery which means we can create the size and shape car magnet you want. Most of our clients order square or rectangular shapes because a); they are the cheapest and b); it's the message rather than the shape of the sign which is important. However we often have clients who want specific shapes to further accentuate their message. For example a well known wine company who wants their car magnets shaped like a wine bottle. A pet food supplier who wants their car magnets in the shape of a dog. A pilot training school with car magnets the shape of a single engine Cessna.
Ordering Car Magnets
Our ordering process is fast and simple. Contact us on 0410 008 218 or via the online form below and we will discuss your requirements with you before providing you with a free quote. It's that easy.
Artwork
If you have existing artwork that's great but if not we can create the necessary artwork in-house for you. Depending on the size of your order the artwork can cost between $100 and zero. Once the artwork is complete you will be sent a proof to approve. No production can start without your approval.
Payment Terms
Once you have approved your artwork we will require full payment before we commence production.